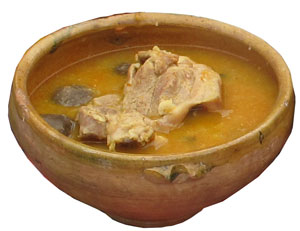 Fricassee is a very popular dish in Bolivia. Apparently it comes from French cuisine, but over time it has picked up some especially Bolivian characteristics.
Recipe
Ingredients
- 2 tablespoons oil
- 1 kg pork ribs
- 2 white onions
- 1 green onion
- cumin, black pepper, oregano, hot red chilies (Bolivian ají colorado)
- 4 garlic cloves
- 1½ cups fine bread crumbs
- Salt
- 4 cups corn
- 8 potatoes cooked and peeled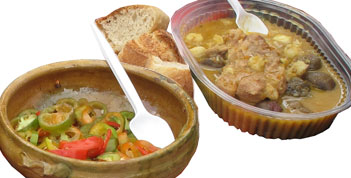 Preparation
- Fry pork ribs until brown
- Add onions (white and green), garlic, salt, cumin, black pepper, oregano and chili peppers. Mix and continue to brown.
- Cover with water and boil until the meat comes off the bone, adding water as needed.
- Add fine bread crumbs to thicken the broth.
- Add potatoes and corn when serving in a soup dish with the broth.