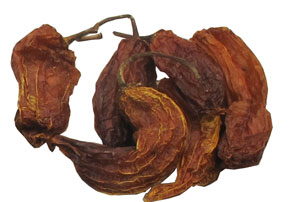 This dish is most representative of Chuquisaca and is prepared based on ají (chili pepper grown in Bolivia) that is served with fried pork.
Fritanga is served with mote (a type of hominy) and potatoes.
Recipe
Ingredients
- 1 kg corn
- 800 gr pork ribs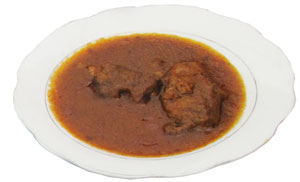 - 4 large potatoes
- parsley
- 6 red (hot) chili peppers
- 3 tablespoons of pepper and cumin
- 2 cloves garlic
- Salt
Preparation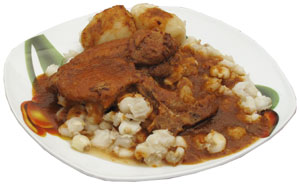 - Soak the peeled corn kernels in water overnight. Cook it in the same liquid in the pressure cooker without salt.
- Cut the ribs into small pieces; season with pepper, cumin and salt.
- Cook the seasoned meat in water to cover, when cooked separate the stock and then fry the meat in oil.
- Wash and seed the chilis. Fry in oil until they darken, then mix with the condiments to make a dough. And add a ladle of stock and heat it.
- Add the meat and mixt it. If it's necessary add some stock, spices, and let it boil for 15 minutes. The sauce has to be heavy.
- Cook the potatoes in water with salt.
- Serve it with potatoes and choclos.