Quinoa is a food from the Altiplano. It has been cultivated by the rural peasants for many centuries for local use. Recently it became popular in Europe thanks to its high nutritional value, its taste and texture that make it adaptable to many dishes (salads, soups, soufflés, pies, desserts, etc.).
Recipe
Ingredients
- Vegetables (carrots, peas, fava beans, green beans, onions, etc)
- Quinoa
- Parsley, bay leaf, salt and pepper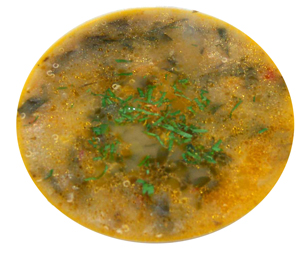 Preparation
- Chop vegetables.
- Fry vegetables, beginning with the onions.
- Toast quinoa.
- Place in enough water to cover all ingredients three times, and cook until vegetables are tender and rings of quinoa appear floating in the soup.
- Add bay leaf, salt and pepper.
- Serve with minced parsley