Peanut Sauce is one of the most exquisite sauces of Bolivian cuisine. It has a spicy flavor and is usually served with anticuchos (skewered beef heart) and tucumanas (Fried empanadas).
Recipe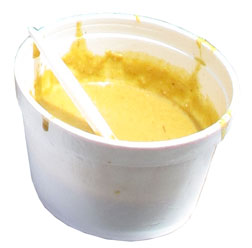 Ingredients
- 1 cup roast, ground peanuts
- 2 tablespoons red chili pepper powder (Bolivian ají)
- 1 tablespoons black pepper
- ½ cup oil
- salt
Preparation
Mix all ingredients and cook over a low fire about 15 minutes, stirring.