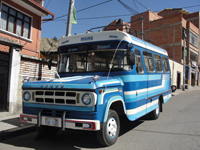 The bus (flota) is the most common and economic form of transportation to move between cities in Bolivia. However, along some routes it is a dangerous means of transportation. There are frequent bus accidents (crashes, rollovers, going over a cliff).
Safety depends more on the driver you get than on the company you choose. This has lead to a new law in 2010 that penalizes bus companies for accidents caused by their driver drinking.
Click here to see a map of Bolivia's main highways.
International Bus
These buses are very comfortable (with berths, bathrooms, television, snack service, etc.), inexpensive (45 Euros from La Paz to Lima), safe and organized (staff instructs foreign passengers on the procedures at border crossings).
Click here for an idea if you want information on the schedules and companies that depart from central stations in La Paz, Cochabamba, Sucre and Potosí. If you wish to go to Brazil, you need to ask at the Santa Cruz bus station.
Intercity Bus (Flota)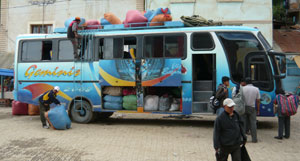 If you want to go from La Paz to other departments in the country, you should go to the central station (located in the center of downtown). To go to the Yungas (Coroico, Chulumani, etc.) you leave from the Villa Fátima station. For Lake Titicaca or Sorata, go to the bus stop (buses and minibuses) at the general cemetery.
The buses that leave from the central station are generally comfortable and well-equipped. The ones leaving from Villa Fátima and the general cemetery are not the best quality.
You should arrive a half hour prior to departure for buses leaving from the central station. The cost to board the bus is €0.25.
Principal routes:
Routes
Frequency
Time (h)
Distancy (km)
Price (US$)
La Paz - Oruro
tous les jours
chaque 1/2h
3
225
5
La Paz - Sucre
tous les jours
(Soir)
14
500
15
La Paz - Copacabana
tous les jours
toutes les heures
3.5
165
2
La Paz - Tiahuanaku
tous les jours
2
60
4
La Paz - Potosí

tous les jours
(soir)

7
550
12
La Paz - Cochabamba
tous les jours
(matin et soir)
6
350
10
La Paz - Coroico
tous les jours
Tout le temps
4
90
2
La Paz - Cuzco
tous les jours
12
625
Potosí - Villazón
tous les jours
12
360
11
Potosi - Sucre
tous les jours
3
165
4
Potosí - Uyuni
tous les jours

8
210
6
Potosi - Tupiza
8
300
4
Sucre- Cochabamba
tous les jours
12
280
10
Sucre - Tarabuco
1
55
1
Copacabana - Puno
2.5
130
4
Santa Cruz - Yacuiba
tous les jours
10
550
12
Santa Cruz - Cochabamba
tous les jours
8
445
10
Santa Cruz - Trinidad
8.5
550
4
Oruro - Uyuni
7
310
5
Villazon - Tupiza
3
85
2
Trinidad - Rurrenabaque
14
360
18
Bermejo - Tarija
4
165
3

Micro (City bus)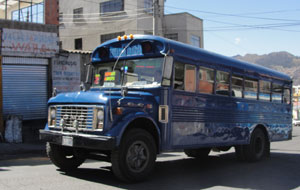 This vehicle is very common in Bolivian cities (especially in La Paz and Cochabamba). Most of them are Mercedes Benz and GMC models from the 60s. They are organized by numbers or letters depending on the route and display two signboards on the windshield, one with the route number or letter and the other with the names of stops along the route.
You pay the driver when you board the bus (€0.12) and shout "me quedo," "bajo," or "esquina" about a block (30 meters) before you want it to stop.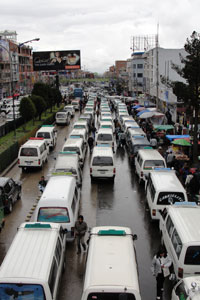 Minibus (small city bus)
The minibus is the most common public transport in the cities of La Paz and El Alto. The route is displayed on a card that hangs on the windshield. Minibuses have a collector who collects the fare (between €0.16 and €0.23) and a crier who shouts the route and stops for the minibus out the window.
Trufi
The trufi (taxi ruta fija or fixed route taxi) is a type of taxi that has a set route (displayed on a card that hangs on the windshield as well as by the color of small flags it bears on the hood) and a cost of €0.33.
Taxi
There are two types of taxis: the radio taxi and the regular taxi.
The radio taxis are cars that are in contact with a central operator by radio and provide the service of responding to your telephone call to pick you up at home and take you to your destination. Hotels normally have their own radio taxi company. This is safer transportation as well as more expensive (€0.75 to €5 depending on the distance).
Taxis are regular cars that cruise downtown and the Sopacachi and Miraflores neighborhoods. These taxis pick people up on the street and cost around €0.33.