Ispi is a small fish from Lake Titicaca. Each serving has several ispis, which are eaten fried whole, accompanied by other foods typical of the department of La Paz: corn on the cob (choclo), potatoes cooked in their skins, chuño (freeze-dried potato) and llajwa (Bolivian hot sauce).
Recipe
Ingredients
- 500 gr Ipsis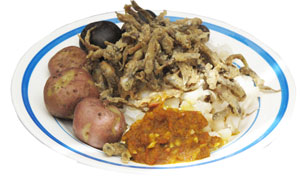 - oil
- lemon juice
- 2 eggs
- flour
- milk
- salt and pepper
Preparation
- Marinate ispis with lemon and oil
- Mix eggs with milk, flour, lemon, salt and pepper
- Spread mixture on ispis and fry in hot oil.