This is a very popular sandwich in the city of La Paz. There is even a famous park called Las Cholas where it is sold.
It's called sándwich de chola because generally the cholitas (affectionate name for indigenous women) prepare it.
Recipe
Ingredients
- 1 pork shank (small)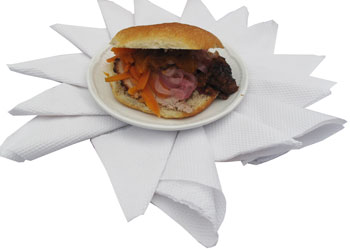 - 2 lemons
- 6 cloves of garlic
- 4 red chili pepper pods (ají colorado in Bolivia)
- 1 small packet of baking soda
- 3 onions
- 15 sandwich buns
- pickled onions and carrots
- black pepper
- cumin
- tomato
Preparation
- Marinate the pork shank overnight in salt water and rinse the next day.
- Mix the seeded chili peppers with garlic, onion, black pepper and cumin, then use it to season the pork.
- Rub lemon and soda over the pork so it will become crisp.
- Place seasoned pork in the sun for about 10 minutes.
- Bake in moderate oven for 1 hour.
- Cut pork into fine pieces as soon as it's out of the oven.
- Make a salad of the tomatoes and onions.
- Cut the buns in half, fill with pork, salad, pickled vegetables and a little hot sauce (llajwa - Bolivian hot sauce is best).