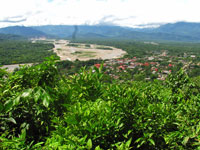 Villa Tunari, a town located in the Cochabamba tropics located between the Andes and Amazonia, has incredible landscapes with exuberant vegetation and is full of rivers, streams, waterfalls and natural pools.
Generalizations
Date established: December 2, 1941
Climate: tropical, warm and humid. Temperatures reach 40ºC in the summer with an average annual temperature of 25º C.
Altitude: 300 meters above sea level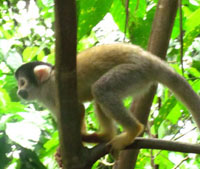 Fauna: jaguars, pumas, different species of monkey, bears (sloths and anteaters), white herons, toucans, iridescent hummingbirds, parrots, pink dolphins, lizards, snakes, wide variety of river fish (pacú, surubí, doradillo, sábalo, blanquillo, catfish), huge, colorful butterflies, etc.
Flora: ferns, orchids, flowering shrubs, palms, thola, etc.
People: Yuracaré, migrant Aymara, Quechua.
Economy: coca leaf, ecotourism, farming and ranching, mining (gems)
Access: Villa Tunari is in the Department of Cochabamba, between the cities of Cochabamba and Santa Cruz de la Sierra, about 166 km from Cochabamba and 312 km from Santa Cruz, on the new Cochabamba - Santa Cruz highway). There is daily bus service to Villa Tunari from both cities.
Hotels: There are a large number of hotels and tourist complexes (resorts) in Villa Tunari. Each has restaurants that serve international and Bolivian cuisine as well as fresh fish from the area accompanied by vegetables, rice, yucca (cassava) or fried potatoes.
Services: Hotels, tourist complexes (resorts), restaurants, pharmacies, hospitals, telephone booths and Internet cafes.
Activities: visit Machía Park, swim in clear, natural pools along with colorful fish (Hotel Los Pozos, Hotel El Puente, Santuario de Vida Silvestre), fish, participate in extreme sports like rafting, trekking, rappelling or roping, hiking, excursions, volunteering, botany, zoology, photography, etc.
Photos: Noélise Delille, Maxime Litt