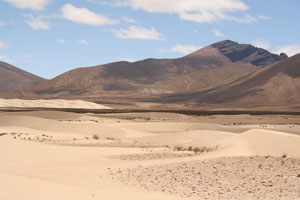 Tajzara, located in Avilés Province in the Department of Tarija, is a plain with large, beautiful lakes that are populated by flamingos whose rosy color is reflected in the tranquil waters of the pampas. Dunes of fine sand, burnished by the sun and ancient Inca roads are also part of this majestic landscape.
At first, the local residents worked independently and were poorly organized. However, after taking some training courses of handcrafted fabrics, the idea of organizing themselves into Artisan Production Units (UPAs, the Spanish acronym) took hold among the communities in order to improve the looms and textile production. Plácido Coque Galián, the president of the Pujzara UPA, explains: "there are about 20 of us who are working. I've been involved since our group was founded. I've been weaving on a traditional loom since I could walk, taught by my father. Today we have improved wool. We used to use it just as it came from the sheep, but now we separate the wool waste since we now know which part takes dye better due to the training."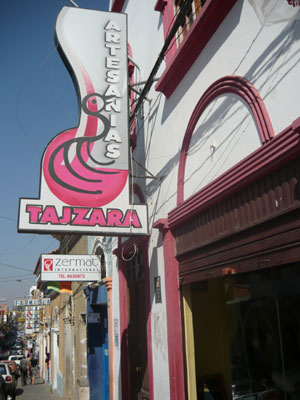 In 1992 the Tajzara Artisan Association (AAAT, the Spanish acronym) was created to begin selling in the city of Tarija. The communities use instruments they make themselves for their production. They follow "traditional" criteria to use natural resources in their work. There are several handcraft workshops that produce sheep wool textiles.
Usually the women shepherd the sheep, shear, select, comb, spin and wash the wool while the men almost exclusively weave the fabric on a horizontal, foot-treadle loom. In Yutichanta, five kilometers down the road, Leucadio Copa, UPA President, explains that, "people come back for Carnival, leave in May and return in November or for New Year." Nevertheless, in view of this on-going migration, women have begun training to use the horizontal loom in order to keep production steady while the men are gone. Feliciana Colque Armella, 55 years old, is one of 18 craftspeople in the Viscarra region. "There are more women than men. I'm new and I didn't know how to weave. I've learned thanks to a technique they have taught us, and I'm the only artisan in my family."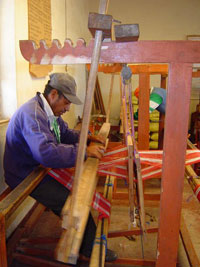 Artisan processes are good quality, and in order to keep this process ongoing, the AAAT isalways working to increase product quality from the standpoint of design, color, finishing and presentation. It also works to diversify products in order to address domestic and foreign markets. Seferino Copa (42) is a trainer for four production units. "This is an area with a thriving sheep population. This work has been passed down from our ancestors who always knew about weaving. We carry on this work as natives. There was always fabric made from sheep wool, but now we make fabric from llama and alpaca."
The profitability of this artisan activity has enabled the AAAT to generate income that makes up the second most significant economic activity (50% of artisan income) which improves income, quality of life for the artisans. Also, the real benefits for the AAAT and its associates are growing and have reduced the migration rate of community members. Evangelisto Espinoza Díaz, 31 years of age, became an artisan at 29. He regrets not being able to visit his family. "I come from a family of 4 and worked in Santa Cruz harvesting sugar cane. I haven't been back for four years and no longer do that work. Now I'm here. I hope my children can live here peacefully. It's only possible to support a family now that this work is available."
According to Petrona, "Our work begins with the sheep, and we made high quality garments. Hopefully our people will remain here" she adds.
Get to know the products made by this hardworking artisan association in southern Bolivia.