Elizabeth Campos, with whom we've been working since 2009, opened the doors of her workshop and welcomed us warmly so that we could discover the design world and observe her production of alpaca wool garments.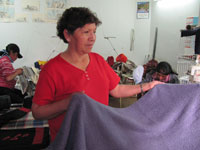 The workshop is in her house which is located in Villa Pavón, a picturesque neighborhood with old houses and narrow streets located 5 minutes from downtown La Paz, where the incredible Killi Killi viewpoint is found.
Doña Eli, as she is called by her loved ones, works with 5 artisans, each of whom has one machine, although only two were there when we visited. One of them weaves with an old Brother machine, and the other makes beautiful crocheted ornaments. After she welcomed us, Doña Eli began to tell us a little of her story: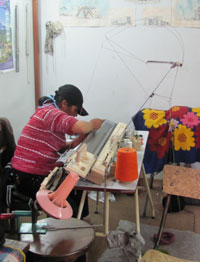 "I started knitting by hand with knitting needles (really fast - in a blink of the eye) to make jackets that I had to take to the supermarket. I got tired of knitting by hand and decided to learn to knit with a machine - it only took me three months - at a school. I started with only one machine.
At first I worked for the teachers at my children's school. I always designed the garments by myself. I worked for them alone for two years. It was a little scary, but I hired a knitter because I also took care of the house.. I didn't know where to sell... then I found a market and signed up at Handal with a stand. First I had to take some sample garments, which they accepted. When I started I only had five sweaters, so the owner made me an example and little by little I got customers.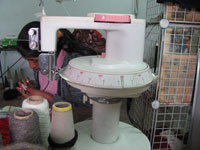 Then I wasn't happy with the market - the rent went up - so I left and hired another knitter and started getting contracts. I worked for schools, Customs, and one year made 250 sweaters. Then I started working with alpaca (ponchos, ruanas, baby clothes, sweaters). I worked with Waliki where we started exporting and I learned to do a finer finish.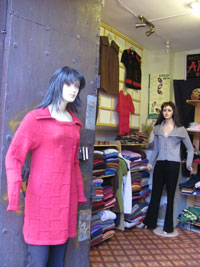 Then I worked with Inti Wara, Terra Alta, Crisan... always trying to learn more. I learned about quality control... and I worked with Mónica Zamora at Lam. I've been doing this for 12 years!
I took part in a fair with my partner, Patricia - we have two shops, one on Murillo Street and one on Linares Street - which is how I met Giovi from Caserita. We've now been working together for one year - I had been wanting to work with Caserita for a long time..."
This is the story of Sumaj Maki, which means "skilled" in Aymara.