Brief history of the potato
The potato is a tuber native to South America which has been cultivated for 8000 years. It is a staple in the diet of the Inca who developed many techniques for preparing and preserving the potato (freezing, drying).
Stuffed potato
This is a typical dish from La Paz that is usually eaten as a snack. It's usually made with potatoes but it can also be made with rice or fried banana.
The potato, banana or rice is filled with meat, egg and vegetables.
Recipe
Ingredients
- 2 teaspoons ground meat (beef)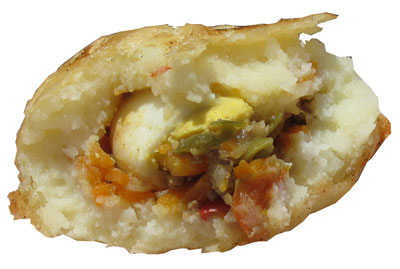 - 1½ teaspoons minced onion
- 1 tomato, peeled and diced
- Olives and/or raisins
- Hardboiled egg
- Peas
- Bell pepper
- Salt and oil
- Spices to taste (quilquina, parsley, oregano, cilantro, mint, etc.)
- Black pepper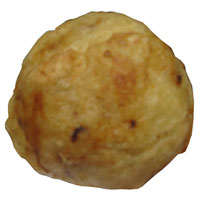 Pasta
- 2 teaspoons butter
- 5 large potatoes
- 1 beaten egg
- Pepper to taste
- Oil for frying
Preparation
- Fry the onions and add ground meat, spices, vegetables, olives and/or raisins.
- Cook potatoes, then mash and mix with butter to make a dry, uniform dough.
- Make one ball of the size of a small fist with the dough, make a hole pushing with two fingers, insert some stuffing and close with some dough. Roll the ball in the beaten egg then fry it.
- Serve with salad and salsa (either peanut or spicy hot)