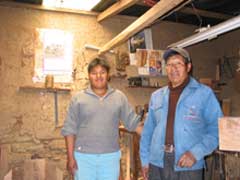 The Ramirez family creates these wooden sculptures. Rufino, the father, with his 4 sons Eloy, Panfilo, Esperanza and Celia, work together in their workshop located in the city of El Alto, at 4000 meters above sea level.
Artisan Process:
The artisan creates his own pattern for each wooden sculpture with general shape details, without considering the final details. With a pencil he marks the contour of the piece on the wood.

The following stage depends on the product. For example, for the big monolith sculpture, the artisan cuts 4 tables of Mara wood that he brushes with the purpose of refining the surface.
This requires time since the 4 tables should be equal so that after he can glue them together (with strong glue) and form a parallelepiped.
Once glued, the piece must be brushed again to eliminate the glue marks and refine the work much more.
The artisan memorizes all the carving details of the piece; he does not have any registration of the designs. The carving is totally hand made, only with the help of chisels.
Once the pieces are carved, the artisan colors the entire piece or just some details and finally he varnishes it.

The wall figures are worked in one piece of wood. The artisan brushes and carves the piece so that after, he can color and varnish it. Generally the work of coloring and varnishing the sculpture is done by the women of the family.

All the sculptures are hand made.