The Cochabamba valley, located in the center of Bolivia, is the birthplace of this national dish.
It is served with hominy, chuño (freeze-dried potato) and llajwa.
Recipe
Ingredients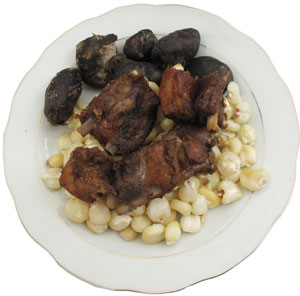 - Pork
- cumin, garlic, oregano
- water
- lemon juice
- Salt
Preparation
- The day before, cut up the port and cook it in water.
- Next day season with salt, cumin, garlic and oregano.
- Boil again on high heat until the water evaporates.
- Lower the heat, add oil, cover the pot and leave it to fry until the meat turns dark.
- Drain the fat and add the lemon juice.