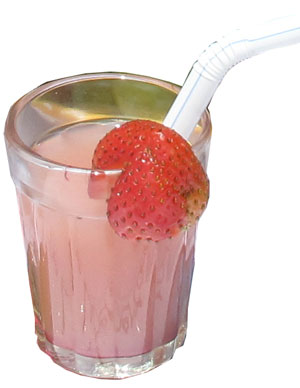 LEGÍA: bicarbonate used to chew coca
LICUADO: fruit puree with milk
LIKICHIRI or CARI CARI: character in Aymara imagination that is responsible for anemia since it extracts fat and blood
LUCHA LIBRE (CHOLITAS CACHASCANISTAS): wrestling match between cholitas
LLAMA: Andean camellid
LLAJWA: Bolivian hot sauce
MANÍ: peanut
MATE: herbal tea
MENONITAS: Mennonites, German Protestants who immigrated to the Santa Cruz area to form an agricultural religious community.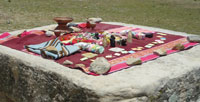 MESA/APXATA: altar table for the Pachamama
MITA: 1. forced labor during the colonial period 2. tax imposed on indigenous people during the colonial period.
MOVILIDAD: motorized transport (automobile)
MORENADA: Traditional dance of La Paz that satirizes slavery and colonization.
NICA: Impossible
ÑANDÚ: Andean ostrich
ORUREÑO: Native of Oruro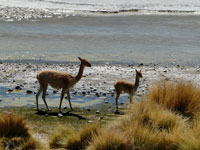 PACEÑO: Native of La Paz
PACHAMAMA: Mother Earth, goddess worshiped by Andean people
PAJA BRAVA: Type of Altiplano vegetation (hay)
PARRILLADA: barbecue
PASTEL: fried empanada
PEAJE: toll gate
PEÑA: Folkloric musical show held in bars and restaurants.
PEPINO: principal character in the La Paz Carnival
PONGAJE: indentured service abolished in 1952
PUNA: ecological zone located in the middle of the Altiplano
"PUES": 1. denotes cause 2. denotes condition 3. Used in Bolivia as a pet word at the end of a sentence to emphasize a statement.