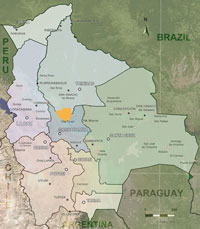 Isiboro Secure National Park is located in the Departments of Beni and Cochabamba. It is a predominantly mountainous region although it has an extensive savannah. Both ecosystems are home to a large biodiversity of flora and fauna.
Area: 1,300,000 hectares.
Climate: very warm at lower altitudes, temperate at intermediate levels and cold at high altitudes.
Temperature: average annual temperature is 30º C at low altitudes and 15º C at high altitudes.
Altitude: from180 to 2500 masl
Hydrography: Isiboro River, Sécure River, Ichoa River and the Mamoré River basin.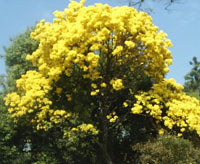 Fauna: there are around 700 species recorded in the park (jaguars, pumas, ocelots, spectacled bears, a variety of monkeys, owls, toucans, black ducks, red macaws, pink dolphins, caimans, river tortoises, alligators, anacondas, etc.).
Flora: there are an estimated 3000 plant species, 700 of which have been recorded, including walnut, tajibo, a large variety of palms, oak, cedar, mahogany, Brazil beauty leaf, etc.
Population: Moxos, Yucaré, Chimane and Aymara settlements.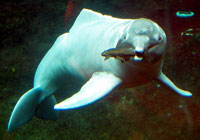 Access: the protected area can be reached by river from Beni (Isiboro, Sécure and Mamoré Rivers) and by the Chimoré road from Cochabamba.
Services: tourist activity is sparse in the area since there is no tourist infrastructure and/or services necessary to receive tourists.
References:
Cochabamba Tourist Office: Plaza 14 de Septiembre, TEL: 425 8030
SERNAP: Portales 353, Cochabamba, Tel: 448 6452/53