How do you wash alpaca garments?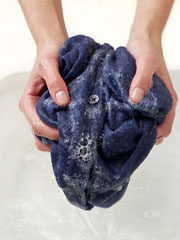 Alpaca fiber is a luxurious, valuable and delicate product, so it is very important to care for alpaca garments to keep them in good shape.
Alpaca is a fiber from the Altiplano of the Andes Mountains that is produced primarily in Peru and Bolivia. In rural areas in those countries, clothes are not washed in machines but by hand and mostly in cold water. Therefore, we know that the artisan weavers and knitters wash alpaca fiber by hand, not by machine. This means that the garments never washed in a machine could be misshapen or shrink the first time in a machine.
Therefore, it is important to keep this very much in mind and never wash alpaca garments at more than 30 celsus degrees, because they can become misshapen and shrink up to 50% of their original size. Now we are going to explain the steps to follow to wash alpaca garments. If you wash it in machine, you will have to put the option "handwash".
You will need the following to wash your yarn:
▫ A bucket of tepid or cold water
▫ Baby or neutral shampoo
▫ Two dry towels
▫ One iron
Now follow these steps:
1) Immerse the alpaca garment in the bucket of tepid or cold water (least risky is cold water)
2) Pour in shampoo and mix with the water, gently scrubbing the yarn. We recommend you use plastic gloves in order not to ruin the yarn with fingernails or rings.
3) Let it soak for about 3 minutes.

4) Rinse the yarn with tepid or cold water.
5) To wring the garment, roll it up in a dry towel and apply pressure to remove water from the yarn.
6) Once it is wrung out, lay the garment out flat on the other dry towel. Regularly turn the garment so it will dry on both sides. Never hang alpaca garments because they can lose their shape.
7) Finally, if you wish, you may iron the alpaca garment. Place a dry towel between the garment and the iron. Use the iron on low temperature and without steam.
If you follow these instructions, you may preserve your alpaca garments for many years without damage.