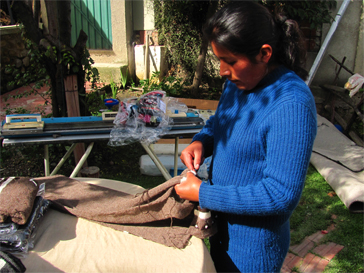 Victoria Marca, a weaver and entrepreneur, owns Wiñay Lurata, which means "made to last" in Aymara. She makes alpaca wool garments.
We spent a very pleasant afternoon in the cozy garden at her house where she also has her workshop. We asked her to share the story of her enterprise with us:
"…Three of us work here in a kind of assembly line. I mostly do quality control, embroidery and sewing, although sometimes I weave, too. My helpers take the machines to their houses. I prefer it that way so that they do not have to pay fares or waste time, and they can take care of their children. We pass out the work according to each worker's ability; some weave better, others like to sew. Some like to make scarves, while others do not...
"I like to weave, and I like what I make. I also design and know people who make designs for me. Sometimes the customer gives me the design.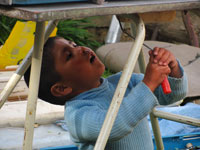 "I had a shop in Sagárnaga (the artisan street) where I met the majority of my customers, but I had to close it because of my son. I also have to take care of the workshop which is like another child. Since I have a following thanks to the store, now they send me pictures or patterns that they want copied.
"All of my production is sold abroad. Here they do not appreciate the work; they would rather buy American clothing in El Alto. Besides, they have the idea that only peasants wear alpaca clothing.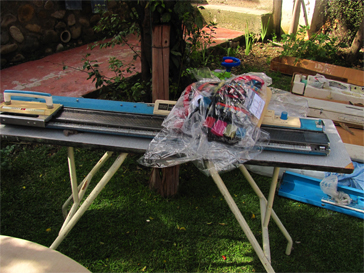 "My mother taught me to weave, and I am from Patacamaya where everyone weaves her bed, skirt, Tarabucan ponchos, baize, or anything else they need in the house. At least when I was 10 or 12 years old they wove. Now I think they just buy things; there is this synthetic fleece that is cheap. That fair in El Alto has caused people to quit weaving.
"I also learned how to use a machine here in La Paz. My relatives also have a shop on Sagárnaga, and I learned with them.
"There are some very complicated orders using lots of designs. Some customers want lots of designs while others want plan, simple designs, like Caserita customers. I also have some customers from Chile.
"I have been working with Caserita for three years, and it has gone very well. They pay well and on time. It is hard to find buyers who pay well and on time - they only want consignment. They want to you leave your products, then they return them for no reason while Caserita has deadlines."