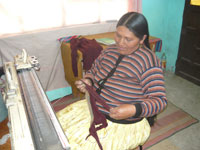 Doña Aurelia is a smiling cholita who cheerfully opens the doors to her shop to share her experiences as an entrepreneur, weaver and artist with us.
Her shop is located in the city of El Alto in the Villa Adela area (about an hour and a half from the city of La Paz). You have to take two different bus lines to reach her, the first leaves the city of La Paz and the second from La Ceja, one of the most crowded, congested and dangerous neighborhoods in El Alto. Once you get on the bus, you have to wait until it fills up for it to leave.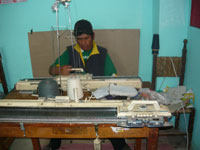 After taking this long route, we arrived at Doña Aurelia's blue door. She greeted us enthusiastically and invited us into her shop which is located at the back of the long yard at her house where she was waiting for us with her husband, Jovino. Like his wife, Jovino is a very nice person who works as a weaver in the family business.
Interview
Caserita: "…tell us a little about how the business got started and how it grew..."
Doña Aurelia:"… I don't remember how long ago I got started, but I've been with Caserita.com for about eight years now. I met them at an expo. I use a machine, but I baste and set in the zippers by hand.
My husband's brothers taught him to weave, and he taught me.Usually it's just the two of us working, but when I have a lot of work I hire a tailor. My children also help me and I have another worker who does the macramé.
I used to export with Señor de Mayo, but I work only with Caserita now. They like to work with me because I always deliver; other businesses don't deliver on time. Caserita doesn't order a lot of things with figures; they prefer solid colors while a Chilean customer that doesn't place a lot of orders always ask for lots of figures. It's better for me to work with Caserita because they pay well in cash. I have a few occasional customers who call me - some Russians I met at a stand I had in San Francisco, but I lost contact with them because I lost my cell phone. I only use alpaca wool that I buy from COPROCA, but their prices have gone up.
I like working here because this is my home. We have four machines here. I also have three sons who are in school and help me sometimes.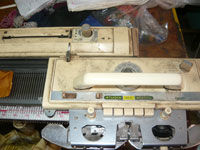 For example, my son irons when there is a lot of work. I only work with the family unless there is a lot of work which I consign to a workshop that has a machine, but I do the quality control. My best friend is Doña Sandra. She and some other artisans belong to a co-op with me, and we work with Señor de Mayo. They called me recently to do some work, but I do not want to let Caserita down. The Waliki have also asked to work with us; my husband worked as a weaver for them with a card.
Now I want to buy a machine like the one Doña Sandra has that is similar to a loom. I'll take a class in El Alto to learn how to operate it. That's the only thing that's missing... Our machines were expensive at almost US$800, but now they are made in China and cost Bs. 1000, but they're not very good quality - they don't last. It takes me almost four hours to knit a sweater, but what takes the longest is basting and inserting zippers, tying off the ends, attaching labels and ironing. The sweaters with lots of designs take two days to knit.
We used to go to fairs at the Palacio Chico, but we can't even consider going anymore because once we got robbed there. A thief got in and took the vicuña blankets from our partner, and we all had to replace it. Luckily I met Giovana and now only work with Caserita."