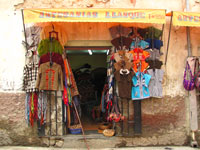 Artesanías Llanque is a company dedicated to producing articles made with woven in sheep wool. They purchase the cloth and hire out the cutting which they make into backpacks, purses, fanny packs, etc.
Dolly and her husband, Santos, are the owners of this family business. She opened the doors of her workshop to us and explained how the business works generally:
"… We have sheep wool fabrics from all the departments of Bolivia except Santa Cruz where they do not produce very much wool. The old rugs (from 25 to 30 years old) that are hand woven can cost as much as $500, but if they are colored with plant dyes the cost starts at $1000 since natural dyes do not fade.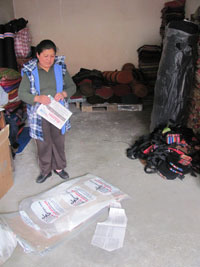 "We have other fabrics that are cut to use for backpacks, especially wipala backpacks. We do the cutting and the needle workers only sew; we cut and select the combinations and designs.
Seven people work in the shop: a cutter, the lady who cleans up the ends of threads and five needle workers. My husband and I hand wash, cut and sell.
All the fabrics except the synthetics are dirty when they come in. After we wash and cut them, we stack them up by colors. We buy synthetic aguayo in El Alto. The linings we purchase are from China, as well as the zippers and straps. Industrial fabrics cost Bs. 100 (€11) per meter and do not require washing. We use patterns cut out of newspaper for our cutting.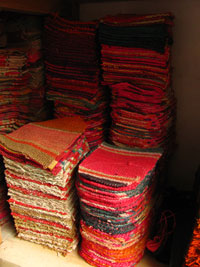 "We have plain sewing machines, one serger and a cutter. We hire garment makers who already know how to sew since we do not have time to teach them - we have to produce.
"Our sewers know how to finish seams. It is difficult to find those who know how - most of them do not like to work on the finishing, pockets, assembly, inserting zippers and finishing seams inside and out. Actually they only like to serge. Some are faster than others, too. I have sewers here who can produce 350 items per week, while others can produce barely 100 per week. I pay my sewer by the piece, per finished article. I pay 10 Bs. (€1.1) for each backpack and Bs. 1.50 each for small items. Our work week is from Monday through Saturday until noon. They get to work at 8 a.m. and leave at 7:30 pm with no lunch break, although we give them lunch and tea in the afternoon.
"My husband, Santos, taught me to sew. His parents cut aguayo. My mother has another workshop where she makes alpaca garments.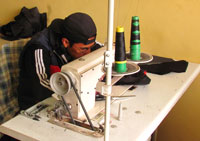 "We have a shop on Linares (artisan street) that people know. They know we produce and sell wholesale, so the retailers visit us, and we sell to Chile and Argentina. We have been working with Caserita.com from the beginning. We are the first ones who worked with them. Giovi came to the shop and started buying ponchos from us. Since then we have been selling products on their site."