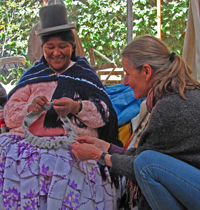 Bolivialpaca is a company which caserita.com works with since 2011. This company is mainly dedicated to spinning alpaca wool. They are organized by a danish lady, called Hanne Errboe. The company is home to more than a hundred craftspeople. The company aims to sell and promote products in Alpaca wool to generate income for women of the Altiplano through dignified work.

For caserita.com they make the skeins of handspun natural alpaca wool (L and XL). These skeins of wool, like all BoliviAlpaca products are made entirely by hand by bolivian altiplano artisans. They are made of alpaca wool and superfine quality with a distaff, in the traditional way. The colors of hanks are natural, no dyes added. They are all natural and have the color of the coat of the alpaca. In addition to the skeins of wool, BoliviAlpaca also makes sweaters, cardigans, jackets, ponchos, shawls, scarves, accessories and baby clothes.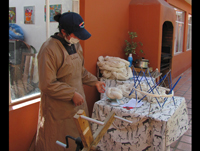 On a sunny morning in May, we went to Hanne Errboe's house.She told us: "Lots of hands are necessary to spin the wool. We work with more than 100 artisans, more than 50 spinners and 50 knitters. Most of them come from the country but live in El Alto and work from their homes. We see them once a week for quality control. I usually go there. At first we only had spinners, but now we have orders from foreign designers, and we hire a lot of knitters. We get orders around the year which guarantees continuous pay to the artisans. Luckily, nowadays we don't have breaks in the work.
We work with shops in Denmark that buy wholesale.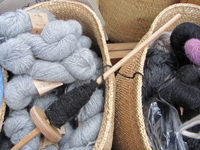 We also have customers in Norway who buy garments, in Sweden who buy skeins of yarn, some in Germany and a few in the Netherlands. There are also some customers in the US, but most are from Denmark because that's where I'm from, and I have contacts there. I work with the importer of a Danish friend who lived here. I just send things to her, and she takes care of distribution.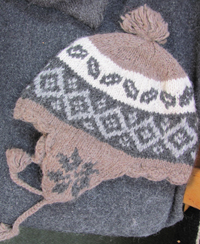 "I've been in Bolivia for more than 25 years and was working with an NGO on a literacy program. When the program was completed, the women didn't receive any more support. Since I knew they were expert spinners, I proposed this work. This is a private initiative, and we work with fair prices and receive no financing. I only work with the ladies who take charge of the work, and they hire trustworthy employees. We make simple garments with the yarn we spin. This yarn is not available anywhere else because other yarns don't have the same quality.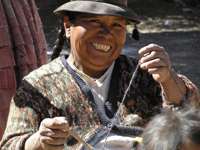 Hanne introduced us to Mauri, a weaver who has been with the company the longest. She showed a small collection of products. Then Hanne sais: "Mauri is working with me since I arrived... there are over 25 years of that. She already knew knitting, sh e knitted for her and then for me and my family. She is the one who produces the most, she and her group, because each of them organizes the work of a group, usually women of the neighborhood. Most are from El Alto, they are the campaign but now live in El Alto.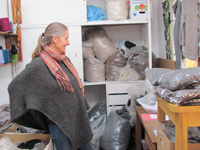 "Before that I worked with people in the campaign but ultimately it was costing me a lot to pick up products or they take them, now I am working with those living in El Alto. There are also women from other areas of La Paz such as Chasquipampa, etc.. They are often people who know each other I mean their family: sisters, cousins, friends, neighbors, etc... It is important that they know each other because they must have confidence and they do the job well, of good quality and for a specific date. I know the presidents of groups, I can not know everyone and but as the president changes each year, in the end I know more and more people."