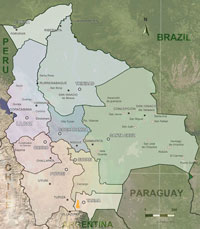 The Sama Reserve is a government-protected area due to its natural and archeological wealth. It supplies drinking water to the city of Tarija and nearby communities.
Area: 108,500 hectares
Altitude: from 1800 to 4700 masl
Climate: the climate is cold - it gets down to -20º C in the winter.
Population: There are 11 communities inside the Reserve, Aymara and Quechua for a total of about 4000 residents.
Fauna: puma, llama, vicuña, alpaca, Andean deer, Andean fox, viscacha, 41 species of birds (3 endangered flamingo species, condor, etc.)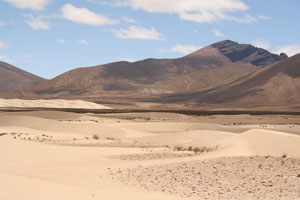 Flora: Queñua tree, Kiswara tree, alder and yareta are the most common forest species in the area because they are well adapted to the cold, the altitude and the dry climate.
Access: the reserve is located 70 km from the city of Tarija with easy access since it is on the road the connects Tarija with eastern Bolivia.
Attractions: four permanent lakes that form a 1300-hectare lake and are home to 34 aquatic bird species, of which 8 are migratory. The area has a great historic-cultural value that can be seen in the ruins, mineral deposits, rock carvings, cemeteries, forts, Incan and pre-Incan agricultural constructions, etc. These archeological elements demonstrate the millennial (8000 years) presence of indigenous people in the area.