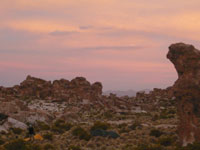 This surprising spot is located in the Department of Oruro (Sajama Province) on the Chilean border (Lauca National Park). Located on the Altiplano, it has characteristics typical of the ecosystem: high pools, extensive plains, specific flora and fauna, etc.
It is part of the volcanic Eastern Cordillera and is found in the eco-region of the Puna (high Andean plateau) at 6,542 meters above sea level (masl).
Information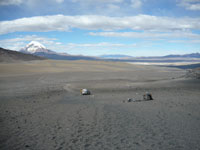 Area: 100,230 hectares (1,002 km²)
Altitude: from 4200 to 6542 masl
Year established: 1939. This is the first natural reserve in Bolivia
Climate: semiarid and cold
Temperature: average annual temperature is 10ºC, but nighttime temperatures go below 0ºC. Average temperature in January 7.5°C and in June -14.1°C. The daily temperature range is more important than the annual temperature range since Sajama is at a lower latitude, far from the Equator but at high altitude.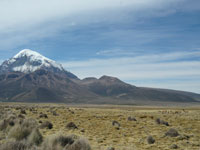 Rainfall: average annual rainfall is 300 mm. January is the wettest month, and the area receives a lot of sun during the day.
Flora: the area of the park is covered by forests of Queñua trees (tree about 3 meters high belonging to the rosaceae family)that grow almost exclusively in this area.
Fauna: llamas, alpacas, vicuñas, armadillos, viscachas, bears, Andean cats, pumas, condors, pink flamingos, coots (black ducks), hummingbirds, rheas, etc.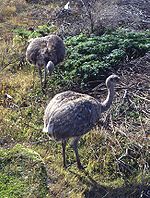 People: Aymara. it is estimated that around 300 families that raise camellids populate the area.
Tourist attractions: Sajama Volcano (snow capped at 6542masl), high pools, thermal springs, high mountains (Pomerape), queñua forests, volcanic geysers, Curahuara de Carangas (Colonial city that has a beautiful church known as the Sistine Chapel of the Altiplano), Sajama, Potoco, Huajlilla ruins, Tomarapi (cave paintings), Changamoko (colonial mining structures), lagoons.
Services: the city of Sajama has small boarding houses where you can eat and camping at the Sajama National Park. You can also rent mules to carry your baggage and hire local guides for mountain climbing.
Activities: mountain climbing and rock climbing, hiking, hot springs, photography, zoology, anthropology, botany, archeology, volcanology, etc.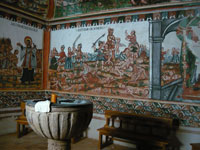 Access: an asphalt road to Chile. If you do not have your own vehicle, you can take the bus from Patacamaya (between Oruro and La Paz) to Arica. Other routes: La Paz - Patacamaya- Lagunas – Sajama / Oruro - Toledo - Jankocala - Turco - Cosapa – Sajama / La Paz - Corocoro - Calacoto - Charaña - Sepulturas - Sajama. You have to pay a fee to enter the park.
What to bring: sun screen lotion, water, waterproof down jacket and sun glasses. If you want to go climbing, bring climbing boots, water, crampons, sleeping bag for temperatures below 0º C, harness, pickaxe, waterproof legwarmers, two ropes, waterproof down jacket, sunglasses, sun screen lotion, waterproof pants for the snow, hat, flashlight and first aid kit.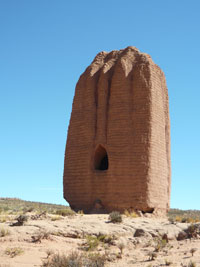 For more information:
Office, streets in Potosí and Caro, Office of the Departmental Secretary of the Environment, Oruro.
DNCB, El Cóndor Building, Calle Batallón Colorados, 13th floor, La Paz. Telephone: 316077- 316230, Fax 316230