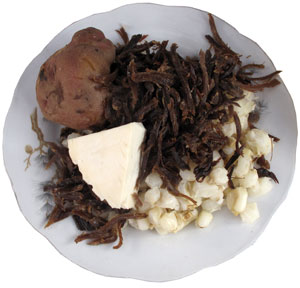 Charquekan is a dish typical of Oruro. It consists of meat (beef or llama) finely chopped and dried by exposure to the sun with salt, served with fresh cow cheese (quesillo), potatoes cooked in their skins, hominy and llajwa (Bolivian hot sauce).
Preparation
- Soak meat overnight to reduce the salt. Drain the next day and place the meat in a pot covered with water. Cook about 15 minutes.
- When cooked, fry in hot oil until it turns dark.