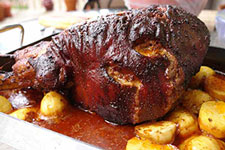 In Bolivia, as in many parts of the world, January first is celebrated as the first day of the new year.
The celebration begins on the night of December 31st. Usually a bountiful dinner is prepared, and guests wait until 12 o'clock to bid farewell to the old year and ring in the new.
The main ingredient in the dish served for the New Year dinner is pork meat, since it represents bounty and prosperity. Since it is an animal that eats in a forward direction, it also represents the beginning of the new year!
Guests are usually close friends, although often the family gets together first. After midnight, the parents and children go out to dance, each with their respective group of friends.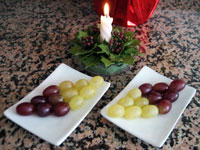 As all Latin American countries, Bolivia shares customs with Spain (rituals carried out at midnight), such as eating 12 grapes (one every second) and making a wish for each grape eaten.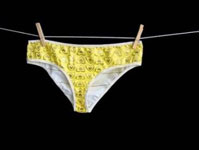 Another custom is to wear underwear backwards, red for luck in love or yellow for wealth, then turning it frontwards at midnight to symbolize the step into the new year. At midnight champagne toasts are made, and people who want to travel in the new year must take their luggage to the door of the house or go up stairs. If one wishes to become rich, one must count money.
Theme parties in La Paz were all the rage this last year: New Year Metal Party, Emo party, hats, wigs, 80s, etc.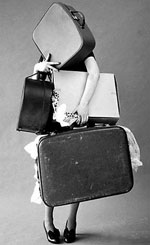 Bolivia is in the southern hemisphere so year-end parties coincide with summer vacation and many people travel into the country either to warm areas (the tropics, Amazonia, valleys, yungas, plains) or to Lake Titicaca (Copacabana, Isla del Sol, Isla de la Luna) in order to absorb positive energy for the rest of the year.
In rural areas of Bolivia it is customary to change out officials on January first every year. Therefore, dances are organized around the main plazas as well as Aymara blessing ceremonies, such as offering tables to the Pachamama (Mother Earth).

In other parts of the country (Tarija, Santa Cruz, Cochabamba, Trinidad) clubs organize private parties in hotels that cost about US$100 or more per couple, which is a very high price compared to the national income.
As you can see, Bolivia has many possibilities for fun at New Years. It is certain that no one is bored!