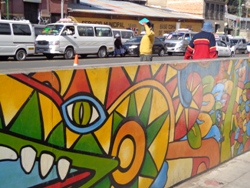 Bolivia is marked by a belief in the Pachamama (Mother Earth), a cruel history of colonization and enslavement, a mixture of different ethnicities and influence from all over the world.
Even today it is one of the poorest countries in South America, and perhaps that is exactly the reason artists believe in "works for the people." Art does not have to be exclusively for people who visit museums; it also helps improve the daily quality of life for everyday people.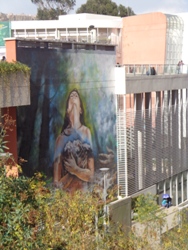 This is achieved with large paintings on concrete walls and buildings in the cities. National and international artists express themselves with a lot of color and creative shapes in the streets of Bolivia at the request of authorities or owners of private buildings.
The cradle of Bolivian muralism is the city of Sucre where the group Anteo was forged under the guidance of the Lithuanian artist Juan Rimsa, who taught Solon, Vaca, Im
ana and other outstanding artists. In La Paz, Miguel Alandia Pantoja stands out as the author of 15 works in all.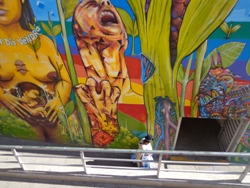 The inspiration for murals in most cases is the danger to mother earth, social conflicts, historic events and daily life in Bolivia. Artists generally try to show societal phe
nomena. Many works show human suffering. However, the artists do not leave happy colors and generous figures out of their works since the paintings are intended to decorate the city.
A few years ago, several organizations dedicated themselves to improving quality of life in poor neighborhoods. One important component of those projects is to decorate the rather sad areas of brick and concrete with cheerful paintings. The population respects this type of street art, and you will rarely see graffiti painted over it.
Thus, the streets of Bolivia are becoming a gallery of public art and a mirror of both history and the present in the country.