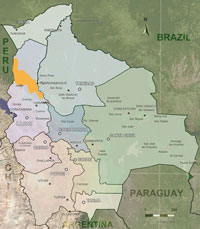 Madidi National Park is in the northeast of the Department of La Paz and is one of the natural reserves with the greatest biodiversity of flora and fauna in the world according to National Geographic, since several ecosystems converge within it: humid montane forests, lowland humid forests, savannahs, mesothermic dry valleys, high Andean zones, etc.
Climate: the climate is very warm in the low areas, temperate at middle altitudes and cold at high altitudes.
Temperature: Average annual temperature is 25º C (33º C in October, November, December and January and 17º C between March and June).
Rainfall: 1800 mm annual rainfall in the intermediate zones and 5000 mm at high altitudes and the rainy sub-Andean mountains.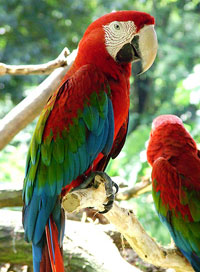 Area: 18,900 square kilometers.
Altitude: from 180 to 5,760 masl.
Access: periodic flights from the city of La Paz. If you want to go by land, you can arrive via Rurrenabaque (from the east), by Tumupasa (from the northeast), by the Madre de Díos River (from the north) or via Apolo (from the south).
Fauna: it is estimated that there are around 2100 species of vertebrates in the park, 1370 of which have been recorded: 156 mammals (jaguar, puma, ocelot, Andean cat, spectacled bear, peccary, capybara, large variety of monkeys, etc.), 914 bird species, 71 reptile species, 192 fish species, etc.
Flora: it is estimated that there are around 5000 species of plants in the park, 4838 of which have been recorded.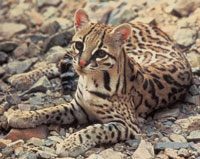 Hydrography: Tuichi, Madidi, Quendeque and Heath Rivers, Beni and Madre de Díos River basins and the Enapurera and Tumupasa-Beni subbasins.
Population: there are 31 communities in the zone. Nine are in the park and 22 within the natural integrated management area, primarily along the roads or in the largest towns in the region (Rurrenabaque, Ixiamas, San Buenaventura, Apolo).
Services: hotels, restaurants, swimming pools, bicycle rental, kayak rental, etc. There are communities within the reserves like San Miguel de Bala and Chalalán that have infrastructure to house tourists and organize hikes. Rurrenabaque has a variety of tourist resources (airport, organized tours, travel agents, hotels, restaurants, karaoke bars, discotheques, buses, etc.).