One of the legacies left by the pre-Colombian cultures, like the Tiwanaku and Inca, is food drying. This is a process to preserve food that can be stored for long periods of time.
Besides products that are normally dried and stored in other parts of the world, in Bolivia you can find: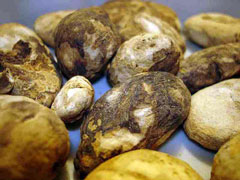 Chuño, which is obtained using a non-commercial method to extract moisture. It consists of spreading potatoes of a uniform size over straw-covered earth and allowing them to freeze for about three nights. They are dried under the sun and stomped on with the feet to remove any remaining moisture and are then re-frozen (the scientific name for this process is lyophilization). They can then be stored for months and even years. To cook them, it is necessary to soak them until they are soft and remove any remaining peel. They are then washed several times to remove any bitter taste and cooked in salted water. Chuño is served as an accompaniment to several typical dishes either whole, chopped into uniform pieces or crushed on the batán (grinding stone), which is the best for soup.
Tunta is also known as "white chuño"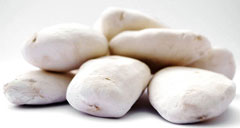 and is produced in a similar way: the potatoes are frozen during a cold night and then stomped on to remove the moisture. Then they are placed in permeable plastic and submerged in the river or lake and put in the sun to whiten. Tunta is steamed and served as a side dish.
Chuño or tunta is commonly served chopped and mixed with a sauce made of ground peanuts as a side dish to picantes, which are traditional dishes prepared with onion, hot chilies (ají) and meat.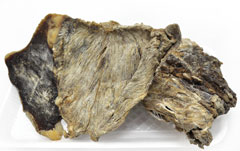 Charque is jerky traditionally made of llama meat, although it is also made with beef, lamb and even fish. Usually the meat is filleted, removing as much fat as possible, then dried hanging in the sun under a cloth to keep away the flies until it is completely dry. Generally it is stored covered with table salt between layers. It is cooked in unsalted water and then crushed and separated before frying in hot oil. A dish called charquecan is jerkey served with potatoes cooked in their skin, farmer's cheese, cooked corn (mote which is similar to hominy), hard-boiled eggs and llajwa (hot sauce made with locotos [capsicum pubescens] and tomato). Beef jerky is used in traditional foods of eastern Bolivia because it is an excellent way to store meat.
Chalona is jerky made from lamb and is used mostly in soups.
Caya is a kind of chuño made from oca, which is a kind of Andean sweet potato.
Mocochinchi is dried, peeled peaches used to make a refreshing beverage. The dried peaches are soaked in water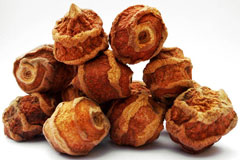 until it becomes syrupy. While it is soaking, boil water with cinnamon, and when the peaches are re-hydrated, add them to the cinnamon water and boil some more. It is served cold.
Fortunately, Bolivia is a country with large agricultural production and fresh food is available for daily consumption. However, these dehydrated products, along with others like hot chilies (ají) and grains, are an important part of Bolivian cuisine.