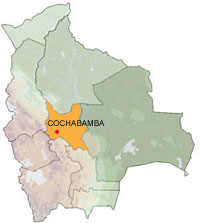 The department of Cochabamba, situated in the center of the country, is famous for its agricultural production and its cuisine. There are many beautiful landscapes where the Andes, valleys (Upper and Lower Valley) and the Amazonian lowlands come together.
Some Tourist Destinations:
The Chapare: The province located in the Cochabamba tropics has great biodiversity which can be seen in its flora and fauna parks and reserves. It is famous for its extensive coca crops. Villa Tunari is one of its attractions where you will find several hotels and tourist complexes with spas (natural springs and man-made) and restaurants where you can enjoy the best fresh fish (pacú, surubi, goldfish, etc.).
Isiboro Sécure Park: Indigenous territory and protected natural area with a temperate (in the uplands) and very warm (lowland) climate. The park has 714 animal species and 3500 types of plants.
Lakes: A main attraction of Cochabamba is the variety of lakes and lagoons (Corani, Alalay, La Angostura, Larati, etc.).
Tarata, Punata, Aiquile, Totora and Mizque: Colonial cities with a great historic legacy, surrounded by beautiful valleys. They are famous for agricultural and artisan production (spinning, weaving, pottery).
City of Cochabamba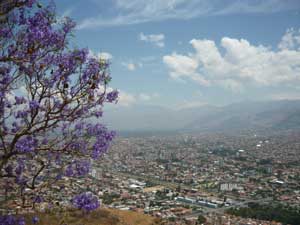 The Valley City, Bolivia's garden, is the capital city of the department and the province of Cercado. It is part of the central axis of the country where you find Bolivia's three most important cities: La Paz, Cochabamba and Santa Cruz.
Both the city and department of Cochabamba are characterized by the production and consumption of chicha (a corn-based alcoholic beverage), its tasty and varied cuisine, architectural legacy and paradisical locales that offer adventure tourism, direct contact with nature and indigenous peoples.