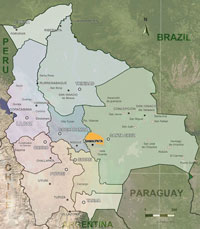 The Amboró National Park is located at the "elbow of the Andes" (where the Western Cordillera turns to the south) in the eastern part of the Department of Santa Cruz on the border with the Department of Cochabamba (Carrasco National Park).
It has great biodiversity (flora and fauna) since several ecosystems converge within its boundaries: Yungas (subtropical mountain cloud forest), Chaco, mesothermic valleys, sub-Andean wet forests, temperate forests, rainforests at the foot of the mountain.
Generalizations
Date established: 1973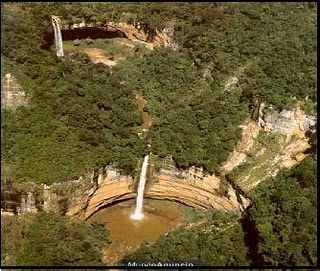 Altitude: from 300 to 3100 masl
Area: 637,600 hectares(6376 km2)
Climate: very warm at low altitudes and temperate at higher altitudes.
Rainfall: from 3400 mm in the wettest areas
Hydrology: most important rivers are the Ichilo, Yapacaní, Surutú and San Mateo.
Flora: 3000 species of plants have been recorded in the area, including: profuse orchids, variety of palms, mountain pine, mahogany, etc.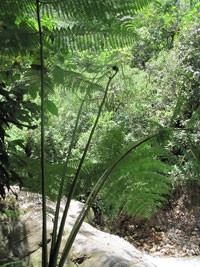 Fauna: There are 127 species of mammals (47 species of bat, jaguars, cats, spectacled bears, anteaters, etc.), 105 species of reptiles, 73 species of amphibians, 50 species of toads and 812 species of birds.
People: migrants from the Altiplano and Guaraní
Activities: hiking, excursions, climbing, mountain biking, photography, zoology, botany, archeology, anthropology, rafting, etc.
Access: accessible from Santa Cruz or Cochabamba, either the old or new road, via Buenavista, Samaipata or Mairana.
You should bring: light clothing, warm clothing, insect repellant, sun screen lotion, flashlight, water, have yellow fever vaccination.
For more information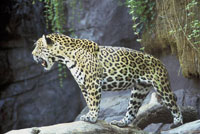 Amboró Park administration: Samaipata: Telephone: 0944-6079
La Paz: C/ Batallón Colorados, El Cóndor Building, 13th floor, Telephone 2316077 - 2316230