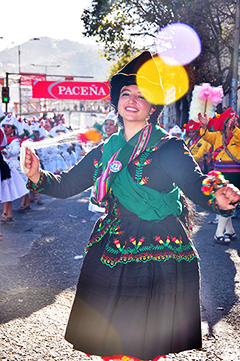 On June 2 one of the most anticipated festivals in the city of La Paz took place, the folkloric processions of the Lord Jesus of Great Power (Gran Poder). This year 65 fraternities participated performing different typical Bolivian dances, each one accompanied by bands wearing their best outfits and radiating joy in their many dance choreographies.
The names of the dances in the "Gran Poder" festival are: morenada, saya, suri sicuri, waca tocoris, caporales, tinku, llamerada, kullaguada, phujllay, doctorcitos, negritos, khantus, mohoseñada, tobas, diablada, ollantay and incas.
It is estimated that around 40,000 dancers participate along with 120 bands, each with at least 50 members, and they all march approximately 8 km to keep the promise they made to the Lord Jesus of Great Power to faithfully dance for three years straight.
An interesting fact about the procession this year was that a special group of diplomats, the Wiñay block, was added to the marchers in the Morenada Señorial Illimani fraternity (the winning group from last year).
This unique group was put together from members of different embassies, including the ambassadors from Germany, Denmark, Panama and Colombia, and the Business Attaché from the United States in La Paz.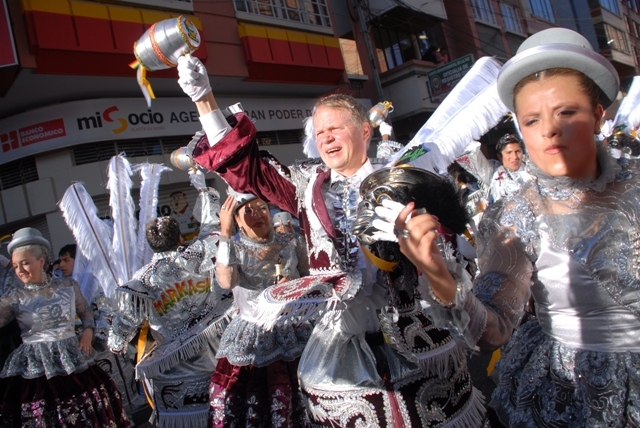 The executive board of the fraternity invited these foreign envoys who practiced for months in advance and made a promise to Jesus, just like the other participants. Each was accompanied by a Bolivian partner who was their support during the procession.
The festival of the Lord Jesus of Great Power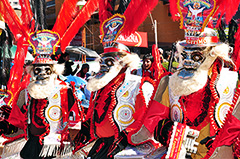 grows every year, both in number of participants and in magnificence. The La Paz government and the Association of Folkloric Groups signed an agreement to begin the process to have this festival declared as an Intangible Heritage of Humanity by the United Nations Education, Science and Culture Organization (UNESCO).
From La Paz we invite you to participate in the Festival of Gran Poder next year. Visit us the first Saturday in June!
Special thanks: Yapa Journal