Does the lambada speak to you?
The lambada, a great success in the 80s, is basically a reproduction of a Bolivian song produced by the Kjarkas, a Bolivian band.
Kjarkas is an Andean music group from Capinota (Cochabamba, Bolivia) created in 1965 by the Hermosa brothers and Edgar Villarroel. The name "Los Kjarkas" comes from the Quechua work Kharka which means "strength."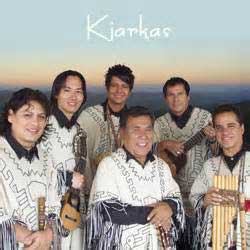 The Kjarkas spent more than 10 years perfecting the composition and interpretation of Bolivian music. Their first big concert was in La Paz in 1975, and that same year they went to the Bolivian Folk Music Festival in Brazil. Their first album came out in 1976 and included 9 songs, the most well-known being Bolivia which became a second national anthem and, of course, they had to play it all their concerts.

The band became better known and toured not just in Bolivia but also in South America, the US, Europe and Japan. In 1984, the Kjarkas were invited to the 15th Popular Music Festival in Japan where more than 1800 songs competed for the first prize. Ulises Hermosa's song, Florcita Azul (Blue Flower), won 10th place, and this victory marked the beginning of the glory of the Karkas still in the land of the rising sun.
In the 80s, the Kjarkas became the biggest group in Bolivia with tunes that crossed borders and oceans.

Also in the 80s, at the peak of their popularity, something unexpected happened. The Brazilian group Kaoma launched the catchy lambada called "Chorando a la fe" which became better known as "lambada." This song which was on the cover was actually written by Ulises Hermosa, called "Lorando se Fue" (Crying, she left), published in 1984. Kaoma had not asked permission from the Kjarkas to remix this tune so they had to pay a royalty to the Kjarkas.
In 1994, the group set up a foundation in Ecuador and Bolivia to teach the art of traditional and popular music to children.

Their most important concert took place in 1999 with at least 40,000 in the audience. Beginning in 2000, the Kjarkas underwent a rejuvenation with new young artists like Gonzalo Hermosa, Jr., Lin Angulo and the Japanese artist, Makoto Shishido.
Today the group has six members: Gonzalo Hermosa González, Elmer Hermosa González, Gastón Guardia Bilboa, Makoto Shishido, Lin Angulo, Gonzalo Hermosa Camacho, Jr.