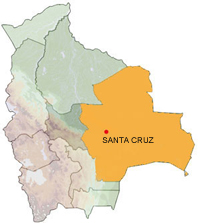 Santa Cruz is the largest department in Bolivia. It is located on the east side of the country and has a tropical climate with plains predominating.
It is the industrial center of Bolivia with a high annual growth rate and the highest per capita income in the country. Its economy is based primarily on agricultural production and petroleum.
Its numerous tourist attractions include the Jesuit Missions, 7 churches that are restored and maintained with mestizo Baroque architecture characterized by wood carvings, huge painted murals, incredible colonial pulpits, etc. The high artistic level and deep significance of these works influenced UNESCO to declare the Jesuit Missions as World Cultural Heritage Sites.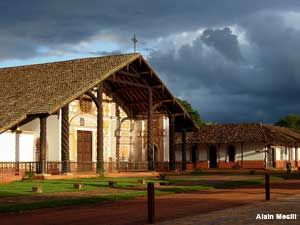 The richness of the Baroque music that was composed and performed in the missions represents a unique collection in the Americas which has given way to the Chiquitos Missions Biennial International Baroque Music Festival that is held every year in Santa Cruz and the towns at the missions.
Another fascinating destination in Santa Cruz is Samaipata, a beautiful valley with a pleasant climate that is surrounded by mountains. It has colonial architecture with the Samaipata Fort a few kilometers from the city. The fort is an archeological center also declared a World Heritage Site by UNESCO.
If you're looking for biodiversity and adventure, the department of Santa Cruz offers several alternatives: the Amboró National Park, the Pantanal, etc.
Santa Cruz de la Sierra
Santa Cruz de la Sierra is the capital city of the department of Santa Cruz. It is an urban assembly of broad avenues and modern buildings on the banks of the Pirai River.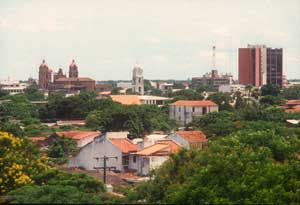 Accelerated economic and demographic growth began in the 50s. It quickly changed from a town into the most populous city of Bolivia.
The most important festival in the city is Carnival, a parade of krewes accompanied by bands that play happy local music (taquirari, carnavalito).
In September around 500,000 visitors attend the EXPOCRUZ (the Santa Cruz Exposition), a huge commercial event that generates economic movement of US$ 200 million.
Santa Cruz de la Sierra offers a large variety of activities for entertainment, including shows, fashion shows, beauty pageants, discotheques, bars, restaurants, spas, water parks, etc.