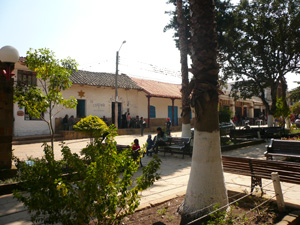 Samaipata is a sunny town in the valley (mesothermal) that is found in the middle of the mountains in the department of Santa Cruz at 120 km from the city of Santa Cruz de la Sierra. It has a very pleasant climate with average temperatures of 25° C, lush vegetation and well-maintained, picturesque colonial architecture.
The Samaipata Fort is found only 6 miles from the town of Samaipata, some pre-Incan ruins where the main attraction is an enormous (250 x 60 m) stone, carved with animal figures. This impressive archeological work includes several ceremonial areas and a very advanced water system that aids agricultural activities.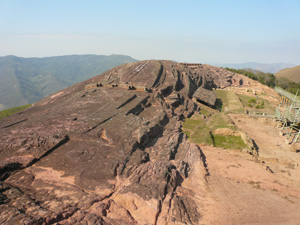 The city of Samaipata also borders one of the entrances to the Amboró National Park, one of the principal natural reserves in Bolivia which has a biodiversity of flora and fauna that is unique, where Amazonia meets the Chaco and the Andes.
Samaipata is a tourism, cultural and archeological center of tremendous importance. Therefore it has been designated Cultural Heritage of Humanity by UNESCO.