The Kallawaya culture dates from the Pre-Inca period. It originated in the Charazani region (and surroundings of Curva, Chajaya, Inka, Chari, etc.), located in the northern part of the department of La Paz.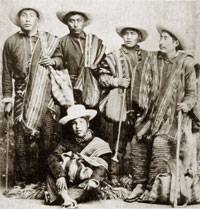 This practice is currently carried out itinerantly using plants, animals, minerals, etc., and is part of the Intangible Cultural Heritage recognized by UNESCO.
The Kallawaya speak Quechua, Aymara, Spanish and and their own language where kallawaya means "initiate".
Their magical and medicinal lore is passed down from one generation to the next, and their therapies are based on rituals, ceremonies, massages, potions, etc., that are used in order to prevent, treat or cure physical or psychic ailments.
The kallawaya have a special Weltanschauung, so their psychotherapy works in three dimensions: symbolic, spiritual and animist. The latter awaits the return of the Ajayu (the soul or element that generates life).
Female kallawayas have limited participation in some rites, especially in ceremonies where shapes and colors play an important part.
If you want to find yourself, get healed or simply know more about this culture, we recommend that you visit Curva, the world capital of itinerant doctors. This mystic place has an intercultural hospital to serve you.
There is also an 80-km trail that crosses the Apolobamba cordillera at 5100 meters above sea level and ends at the foot of Akamani, the sacred mountain of the kallawayas. You could also take the Niño Corini road, an Inca road, which leads to the Charazani hot springs.