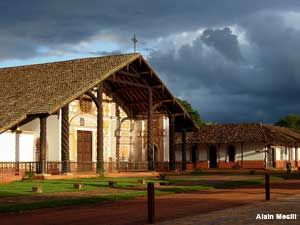 The Jesuit Missions in Chiquitanía are jewels of Mestizo Baroque architecture and are the only ones in South America since the expulsion of the Jesuits. This fascinating tourist destination is in eastern Bolivia, the department of Santa Cruz (tropical region at the gateway to the Amazon), 6 hours from Santa Cruz de la Sierra (the department capital city).
Chiquitanía derives its name from the original inhabitants of the area, the Chiquitanos. Beginning in 1691 , the Society of Jesus began a missionary campaign that included gathering the indigenes onto reservations, developing agriculture, handcrafts, music, etc.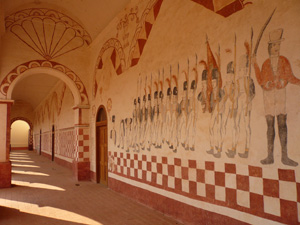 There are 7 churches in Bolivia that are restored and maintained in a style that is very different from the colonial art seen in Mexico, Bahía, Peru or other areas in Bolivia. The Mestizo Baroque architecture of these churches includes roofs made entirely of carved wood, huge painted murals, incredible colonial pulpits. The high level of artistry and the deep meaning in these works have led UNESCO to declare the Jesuit missions World Heritage Sites.
The richness of the Baroque music, composed and performed at the missions, represents a unique collection in the Americas which has led to the Chiquitos Missions Biennial International Baroque Music Festival that is held every year in Santa Cruz and at the mission towns.
Interesting places: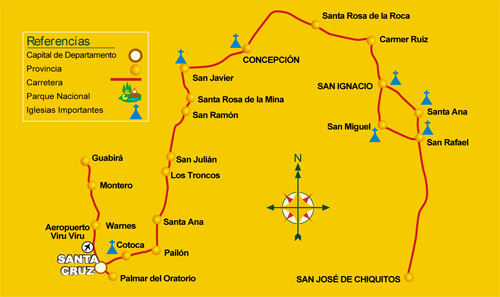 San Javier: cradle of the luthier craftsmen and baroque music school, is the first Jesuit mission. The church, carved in wood, was declared a World Heritage Site by UNESCO.
Concepción: considered one of the most beautiful mission buildings, is characterized by its wide variety of orchids.
San Ignacio de Velasco: The largest town on the mission route. Its residents keep their traditions alive.
San Miguel: The stairs here were built in 1760 and enable you to appreciate the mission works.
San Rafael: located on the banks of the Gaubys River, it was the most important missionary center.
Santa Ana: One of the last Chiquitana missions, its church is small in comparison to the others.
San José de Chiquitos: this is the only one built entirely of stone.