Our interview with one of the creators of the personality "El Raperro," Matilde Quiroga introduces us to the group and its objectives: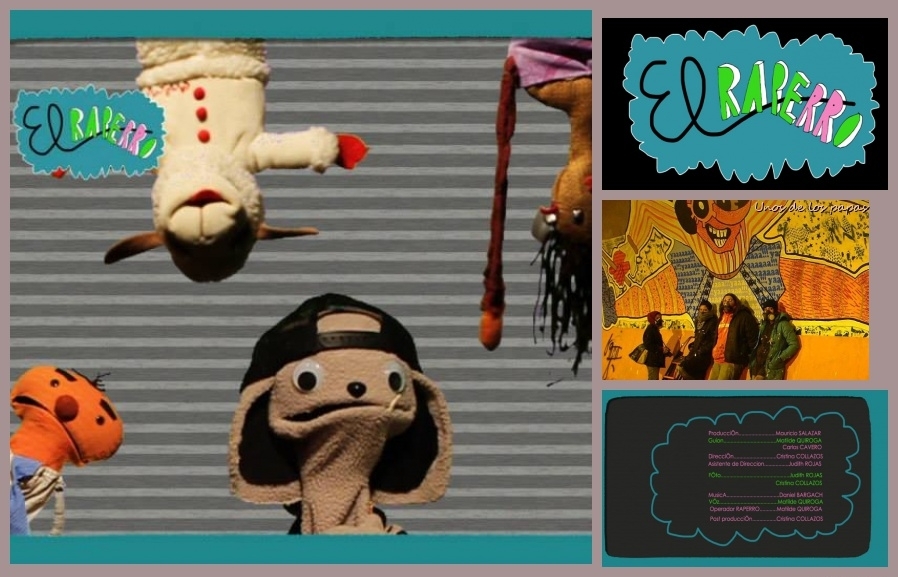 What is El Raperro all about?
El Raperro is a Bolivian audiovisual production thought of as a citizenship value and identity training tool which seeks to help reconcile, make visible, value and shape social self-criticism of our customs from a fresh, irreverent vision.
Where does his name come from?
El Raperro, the brilliant idea of Cristina Collazos, combines "rapero" [rapper] with "perro" [dog]. We wanted him to be a street personality who raps, and what can be more representative of street culture than a dog in Bolivia?
How did the idea to create this personality come about?
In 2008, we got together as a creative group, always questioning quality and, above all, the content of children's programs on national television. We wanted to do something new that would support children's self-esteem and identity, and that's how we started thinking of "El Raperro." We wanted an educational program that would transmit values, but above all we wanted it to be fun and step out from the typical sober format of educational programs.
"I was born in La Paz, one of 5 children! They gave me a heart of gold, even without any money…
They gave me eyes and a cute cap, but I gave myself the desire to sing!
Cruising the streets of my city, I saw so many beautiful things and so many bad things!
So I was inspired and began to rap, rescuing the awichus of oral tradition!"
One question. Can you explain what awichu means?
Awichu means grandfather in the Aymara language, one of the crosscutting themes that El Raperro addresses is rescuing oral tradition and respect for seniors.
Who is behind this group?
We are a group of visual artists, musicians, filmmakers and communicators who are also part of the La Paz Stencil Collective, although this is a different project:
- Cristina Collazos, visual artist and editor, is the director and post production supervisor of the project who created the puppets.
- Matilde Quiroga, visual artist, communicator and musician, works on the scripts, voice and creation and operation of the personalities.
- Mauricio Salazar, filmmaker and visual artist, is one of the creators of the idea, producer, and provides much support on the scripts. He is a tremendous inspiration for the El Raperro personality.
- Carlos Cavero, visual artist and creator, supports the scripts and jokes.
- Judith Rojas, visual artist and communicator, is in charge of the camera.
- Daniel Bargach (Operator), filmmaker, musician and visual artist, is in charge of composing the original music.
What are your goals, your objectives?
We want to strengthen our identity as Bolivians, shaping values with dignity, reconciling, awakening and helping to value our customs, but with a social judgment.
That is why our personality "El Raperro" keeps trying to appear in the media and keep rapping.
If anyone is interested, please don't hesitate to contact us!
What activities are you involved in now, and what do you want to do in the future?
Now we are introducing El Raperro, seeking financing to produce a lot more chapters. Our goal is to be able to occupy a space on television and to reach all the homes in Bolivia. From that point we hope to make a disk of the songs, get played on the radio, perform live shows and everything we can to exploit this personality.
What are your interests in this life? (more details…)
El Raperro has a little bit of each of his creators: he loves Bolivia and its cultural diversity, art, history, justice, laughter, friends. He wants to know many different people, travel, feel, break the mold, question things that appear bad and propose new alternatives to be more respectful and happier.
And how special is La Paz or Bolivia overall for you?
Bolivia is the inspiration for El Raperro. He wants the cultures and traditions to become known and valued because it is a country full of a diverse and rich culture. El Raperro loves his country and wants to spread this love to all Bolivians and everyone in the world. He also things that we can be more unified and happy having this value which is why he also criticizes negative attitudes ingrained in our culture.
If you want more information about this personality, you can visit his official Facebook page:
https://www.facebook.com/elraperrosoy?fref=ts
Interviewed by Marjorie Michel.