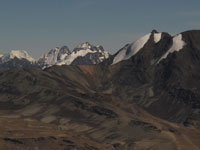 María Lloco
This small mountain is part of the Huayna Potosí massif. Its name means "mother's tear" in Aymara. The ascent of this mountain has a high difficulty rating.
Altitude: up to 5522 masl.
Access: Leave from the Milluni Mine; follow the path leading to Tuni until you reach a cross. From there you ascend the glacier following the aqueduct (to the north). The Tuni - Milluni route is not in very good condition. The Copacabana route is recommended to reach Tuni.
Warning: there is a barrier between Tuni and Tuni Lake. If you enter by way of the lake, you will not be able to reach Tuni.
Time required: 1 day
Difficulty: quite difficult; 50º over 300 meters.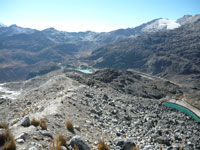 Milluni Peak
South of Huayna Potosí, this peak has a landscape full of rocks and ice mirrors. This ascent gives you a chance to become acclimated. The Italian brothers Angelo Gelmi and Giuseppe Ferrari were the first to ascend this peak.
Access: From the Huayna Potosí Shelter follow the path leading to the Old Glacier. Upon reaching the crest, continue west until you reach a vent that leads to the peak.
Time required: 1 day.
Difficulty: moderate
Tiquimani

This ice peak has two faces: south and southwest. It has a 1400-meter slope of rock and ice.
Access: take the road from the Tiquimani plant that ascends to the Wara-Warani Lake. Return on the north face.
Time required: 1 day
Difficulty: difficult + 80º, 1000 meters.