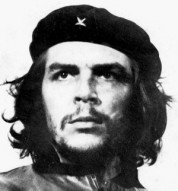 Believe it or not, Ernesto "Che" Guevara, the famous anti-imperialist guerilla commander from the 70s, ended his fight and his path in Bolivia. Back then the country was ruled by the military government of René Barrientos Ortuño.
Ernesto Guevara arrived in La Paz, Bolivia, with the idea of continuing the "revolutionary Latin American process" that began in Cuba. Shortly thereafter, he moved east where he established the Ñancahuasú guerilla fighters (in 1966), which he commanded along with Juan Acuña (Joaquín), Álvaro "Inti" Peredo and Eliseo Reyes (Rolando or San Luis).
In April 1967, the fighters began to suffer defeats in combat, costing the lives of soldiers like Eliseo Reyes. Towards the end of that month, the army had completely surrounded the guerilla fighters. Che wrote as follows in his diary:
"... we are still completely surrounded; disease has undermined the health of some of our companions, forcing us to divide our forces which has reduced our effectiveness; we still have not been able to reach Joaquín; the peasant base has not yet been developed; even though it looks like we are achieving the neutrality of the others with planned terror, support will come later. It has not produced a single volunteer..."
In October of 1967, Guevara was captured and killed by the Bolivian army in Vallegrande, a small town located to the west of the department of Santa Cruz, Bolivia.
Currently Vallegrande (2010) is part of the tourist circuit known as "Che's Pathway" that, in spite of publicity and promotion by the Evo Morales government, practically does not have infrastructure to receive visitors, as was mentioned by Álex Ayala in an article published by Pieizquierdo. Nevertheless, it remains an attractive and interesting trip, above all for Che Guevara followers. His memory lives in every corner of the area, and his image follows the travelers.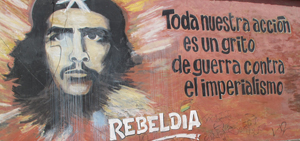 It's said that Che has left an important ideological legacy in Bolivia since the current government is socialist, even though there are those who question the ideological clarity of the governing party.
It cannot be denied that 42 years after Che's death, his image continues to captivate the masses, both in Bolivia and in the rest of the world.
Sources:
https://www.radiosantacruz.icrt.cu/pagina/el-che-bolivia.htm
https://es.wikipedia.org/wiki/Guerrilla_de_%C3%91ancahuaz%C3%BA
AYALA Álex "Los mercaderes del Che" Pieizquierdo La Paz-Bolivia