The Alasitas festival is a tradition in the city of La Paz that goes back to ancient Aymara traditions which became religious practices after the colonial period in response to the customary mixture that characterizes Latin American rituals and customs.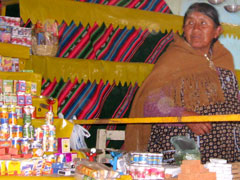 Alasitas, a word in Aymara that means "buy me," is a fair where the indigenous people
originally exchanged miniatures, agricultural products and circular stones of different colors or having some other significant characteristic. This exchange was carried out with joy and with the hope of obtaining these actual objects during the year.
Alasitas is a huge festival of wishes and aspirations. The tradition establishes that people should purchase a miniature of the one thing they need the most during the coming year.
It is necessary to attend the fair at noontime and have a yatiri (witch doctor or natural healer) ch'alla (bless) them. In addition the participants at Alasitas go to the nearest church or the church of their choice to bless the miniatures they have purchased. This also works if the miniatures are given as gifts that become reality through the art of magic.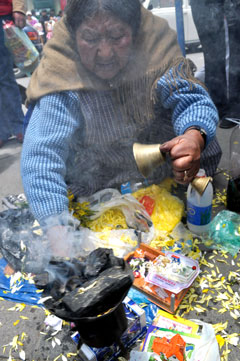 Small replica currency that is almost exactly like Bolivian Bolivianos, US Dollars and Euros is issued by the imaginary "Alasitas Central Bank" or the "Central Luck Bank" so there will be no lack of money. Jars of preserves, bags of flour, sugar, rice and all types of food products to supply the home, luggage with or without papers, passports, visas and airline tickets for travel, handcrafted roosters or hens to obtain a boyfriend or girlfriend, construction materials, machinery and equipment to finish a house; small cars, taxis, buses, trucks and pickup trucks to obtain a vehicle, degrees, post-grad and masters degrees to achieve a profession as well as pretend civil records where you can get married or divorced or record a "death", property titles, 2- or 3-story houses or complete buildings – all these are available to predict a good buy, and an infinite number of interesting miniatures capture people's attention.
Every year on that date, the newspapers produce the Alasitas newspaper in miniature that provides satiric news of Ekeko, a native god, and they make fun of politicians and "important" or well-known people in the news and celebrities. Moreover, you have to give him the miniatures bought and make him smoke every Monday and give him some alcohol so that he will make your wishes come true.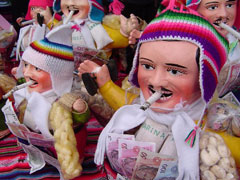 You can also find typical dishes at the fair, including, the "plato paceño" (ears of corn, beans, potatoes and cheese), kebabs (usually of beef heart) and other national dishes. All kinds of cookies, sweetened apples, the huge variety of dishes typical of western Bolivia and a variety of popular games like table football or darts or air rifles ensure unending fun.
The Alasita celebration is a very traditional event in the city of La Paz and has gradually spread throughout other cities in Bolivia as well as abroad, like in Brazil and Peru. The naiveté of the fair, the work of the artisans and the faith in these rituals have made it a fundamental part of our society and one of the cultural expressions typical of this magical South American country.