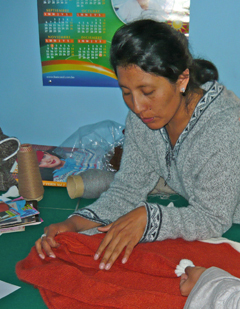 Patricia Palle, a Bolivian woman with a constant desire for knowledge and improvement, is an open and friendly person. Thanks to her personality, the "Arte Y Punto" alpaca clothing workshop has been able to grow and develop.
It all started with a sewing machine. Patricia was completing her course of textile techniques and industry when her parents gave her this machine. Then she began to make traditional mantillas for poor women. She did everything herself: machine weaving, hand-decorated edging and trim as well as sales.
Some time afterwards, one of her friends, who saw that Patricia wanted to learn more about her craft, invited her to work at Yasnaphasiñani (Aymara for "we help each other"), a Bolivian NGO. There she learned to work alpaca wool, a very fine and delicate fleece that must be worked very carefully. Five months later, the NGO hired her to train other artisans in the techniques she had learned.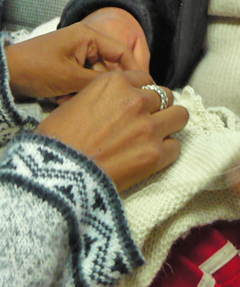 That was when she met another fashion designer with whom she decided to open the shop. The designer thought up new articles, and Patricia made and sold them. In view of her success, they invested in a second machine and hired another person. The shop was still a bit primitive, but it worked!
Then Patricia got to know the alpaca producers' association called Nuevo Norte (New North). Observing her great ability and ambition, they invited her to work at COPROCA on the AWAYU collection. While continuing to operate her shop, she learned to design and fabricate fashionable clothing suitable for the international market. After eight months of training and work at COPROCA, she went back to her shop. Since then, she herself designs her products, has brought a new machine and hired another employee.
The shop, which has been operating since 2006, now employs four people full time: two young women responsible for finishing the garments with hand-crocheted trim, and a young man and woman who do the machine knitting. In addition to these four employees, Patricia also gives employment to low-income mothers who cannot work outside their homes.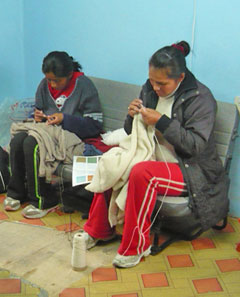 There are a total of eight additional people who work for her according to their time availability and capability. It is very practical for them since there is no need to go out, and they can be organized as best suits their needs.
Currently they all work together in a participatory process. Each one has something to offer based on their aptitudes and experience. The relationship is horizontal without a hierarchy. Everyone feels like she is a part of the entire company.
Together, they create two collections of ten garments per year. Caserita.com has worked with them since November 2009 and also participates in creating designs. It is very pleasing to work with Arte Y Punto, which in contrast to many traditional product artisans, is open to any proposal and is eager to have a high quality product.